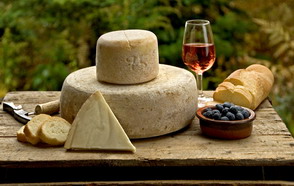 Courtesy of Hal Trussel
Uncooked pressed and aged cheese

Le Fleur des Monts, is an uncooked pressed cheese - aged for up to 9 months.The sheep milk cheeses made in the French Pyrenees were its inspiration and it is this heritage that lends it so much character. Le Fleur des Monts is typically aged from 3 to 6 months.
Whether consumed young or aged, Le Fleur des Monts tickles the palate with its delicate flavor and hint of almonds.
"You have to close your eyes in order to truly appreicate all the flavours of this very rich sheep cheese. Above all, you'll notice an astonishingly strong note of almonds."
Coup de Pouce, December 2002
Available in two sizes: 1 kg and 4,5 kg.