100% happy sheep - our symbol of quality.

People are increasingly looking for authentic, artisanally made foods. Sometimes it can be difficult to find your way through the sea of marketing buzzwords that certain firms use (or abuse) in order to publicize their products in the hope of seducing you into spending your food dollar with intentional misconceptions about the origin, manufacturing process and nature of their product. Unfortunately, the cheese industry is not exempt from this trend, especially since the current Canadian and Quebec regulations are often either entirely absent, imprecise, or used in a manner inconsistent with their original intended definitions for terms such as raw milk, artisanal, farmstead, or natural, etc. Some companies exploit these terms in an effort to fool you into believing that you are purchasing an artisanal or farmstead product, in spite of having manufacturing processes and levels of production that are more akin to a large commercial operation.Worse yet, they disappoint you with the promise of a world-class cheese, a cheese with character, yet they sell only the palest of imitations of what true farmstead cheese should be.

We want to be worthy of your trust, and for that reason, we have implemented our own symbol of quality. This commitment clearly outlines how we achieve the final product, from our pastures to your table, and is without a doubt, the best guarantee that we can offer.

Happy Sheep

We have developed an unique method for raising our animals which hinges on respect for the natural living conditions of our sheep. To this end, we stringently adhere to the following practices :

-Our pastures are seeded with a mixture of more than a dozen wild plants and herbs which occur naturally in our region, les Bois-Francs. In this manner, our sheep are fed free choice from a selection of grasses, flowers, grains and legumes. This varied diet can be tasted in the resulting milk and cheese.

-From spring thaw to first snow, our sheep spend every day free-ranging across our pastures.

-The animals quench their thirst with free-flowing spring water.

-The flock easily finds shelter under the trees on our pastures, shielding them from the scorching heat of summer and high winds.

-Our flock is never fed with silage since this would negatively affect the subtle flavor of the milk.

-Our hay is harvested at the peak of growth and nutritional value, in other words, when it is in full flower. This high quality forage lends a subtle palette of flavors to the ewes' milk throughout the winter.
| | | |
| --- | --- | --- |
| | | |
| | QUALITY MILK FROM OTHER SHEEP FARMS | |
| | We have identified other flocks which provide us with milk of a quality comparable to our own. These producers manage their flocks with the same care and attention with which we manage our own. | |
| | | |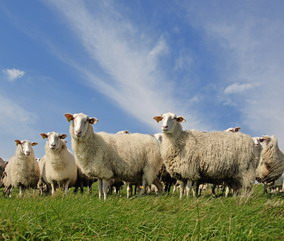 AUTHENTIC FARMSTEAD CHEESE


-Our cheese is made completely by hand, which allows us to give individual attention to every cheese at every stage of its development. Although this may seem insignificant, this is crucial to the development of the character and finesse which is the hallmark of fine cheese.

-Our cheese is aged in our underground cave. This type of aging cave is ideal for maintaining correct temperature and natural humidity, so critical to the aging process of quality cheeses.

-Our cheese is also wrapped by hand. This means that we take great pains to carefully complete this task on an individual basis. This ensures adequate storage and shelf life. This also means that you can enjoy our cheese longer.

-Like all true farmstead cheeses, we do not standardize our production, which means you get cheese made from milk whose composition varies over the course of the season, according to the stage of lactation.
| | | |
| --- | --- | --- |
| | | |
| | KEEPING IN TOUCH WITH YOU | |
| | With the goal of offering you the freshest and highest quality products at the best price, and also in the hope of being able to rapidly evaluate your continued satisfaction with our products, we strive for a minimum of middle-men between you and us. For this very reason, we distribute our products ourselves to independently owned stores and subsequently to you, the consumer. | |
| | | |