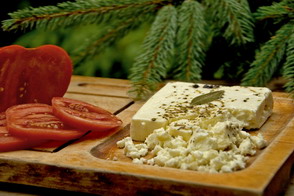 Courtesy of Hal Trussel
Cheese to cook with

Feta is a very white fresh cheese that is cured in brine. Originating from Ancient Greece, its taste is slightly acidic and salty, with a very soft and crumbly texture. Feta is ideal for cooking or use as a garnish.

Our farmstead feta, made of pure sheep milk, is presented in olive oil and fines herbes. It keeps very well and can be served right from the package.
Please refer to the following link for additional information about Feta, its origin and use:
La Moutonnière Newsletter (Feta Edition)
(MS Word) (PDF)